MYCOMASTER
MYCOMASTER enters the animal's intestinal tract through its feed, where it irreversibly binds to various mycotoxins or reduces or prevents desorption. Polar and non-polar mycotoxins such as aflatoxin B1, zearalenone, T-2-toxin and ochratoxin An accumulate at the surface of the toxin binder (adsorption) and are excreted through excrements as a complex (adsorbate).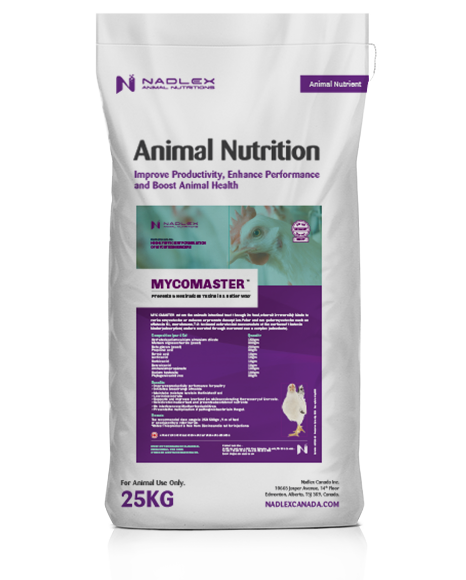 Benefits
Improves productivity performance for poultry.
Inhibits a broad range of molds.
Maintains moisture levels in the finished feed
Low inclusion rate.
Supports and improves liver function while accelerating the recovery of liver cells.
Selective toxin absorbent and prevents absorption of nutrients
No interference with other feed additives.
Prevents the multiplication of pathogenic bacteria in the gut.
Dosage
The recommended dose usage is 250-500gm / ton of feed or as advised by a veterinarian.
*Notes: This product is free from Dioxins and is not for injections.
Storage
Store in dark and clean warehouse with below 20C, do not store together with any toxic or Hazardous materials; once opened make sure to use it up as soon as possible or sealed well.
Packaging
25 KG bags
Have Inquiries?
For further information, please contact us now using the button below: